Before sending PDF purchase orders (PO) to your supplier, you have the option to set up customized templates to define the layout and choose the specific information to include.
Navigate to purchasing tab, locate the desired purchase order and select the "Download PDF statement"
The system's default purchase order template will popup, providing you with the opportunity to customize it according to your needs
Select "Create new" (or "Update" when updating/editing an old template)
Enter your desired template name. And save it.
Now select that template name and start customizing.
"Branding and Styling"  Here you have the option to enhance your purchase order (PO) by upload a logo, adjust size, font, color and add Ship To or Bill To address to your PO.
"Item Grid" Here, you have the option to select or deselect the information that should appear on the item grid of your purchase order (PO). Adjacent to the percentage, you can adjust the allocation of space for each option. Enabling the "Wrap description" feature shortens the description and is only available when the description field is selected. Remember to save your changes.
"Footer" Here you can choose to specialize the bottom of your PO by adding any special notes, welcome note, select address and barcode to appear.  Then Save. Be sure to select "update" after editing a customized PO.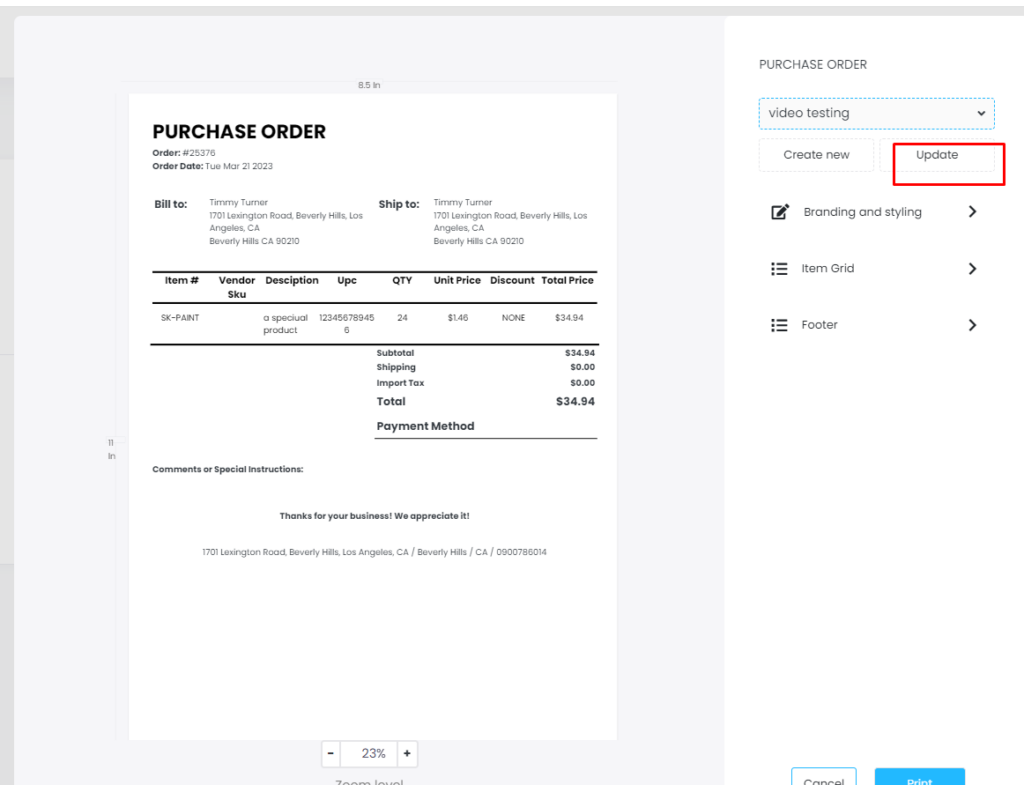 Print!
So now, when selecting any PO you will have the option of using the custom PO template you created.